Testimonials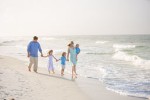 My Family Adores You!
Dear Elizabeth and team, Thank you so very much for all that you do and have done for our family! There are no words to express how much you have brought into our lives! Your images are amazing!! You capture personalities and expressions in ways that I cannot articulate. You capture what I love in my family-and also help bring beauty that helps me to see things I had not quite seen before. Your use of lighting is incredible. You bring out the best in each member of my family and help us all to feel our best. I no longer stress over every detail, as I know that you always seem to make things work. Although I definitely know what I like, I cannot always visualize it. With the help of you and your amazing staff, that has not been a problem. You all have been able to assist me while still keeping me as a decision maker in the process. As a result, my home and office have the most beautiful images of my beautiful family! I also pridefully have jewelry, beautiful handbags, and cards with your amazing images of my beautiful family. Thank you for the beauty that you bring to our lives! Thank you also for being such a wonderful group of professionals that we are thankful simply to know and appreciate! Each member of my family adores you all!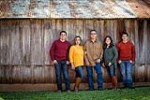 12 years and still creating memories!
The Perez Family from Laredo love Elizabeth and all her staff TONS! For 12 years we have trusted Elizabeth to capture our family as everyone grows and changes year after year. Every photo session has been loads of fun and memorable. We look forward to many more years of making memories! We LOVE YOU!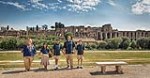 They are a part of our family!
Elizabeth, Trey and Sandi --will do it --if you can dream it. They are so talented. After 15 years of going to Elizabeth when I got hooked on the gold angels when they were little till now doing unbelievable BASKETBALL shots that my son dreamed up to going on trips with our family in various destinations to taking generational pictures with grandma's dementia ---I have always been pleased and many times WOWED. About a week ago I sat in the studio at least half a day and laughed, cried and joked. This is a photographer like no other. My kids told the people in Rome --they are our aunt and uncle -part of our family.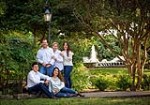 Much Love from the Marquez Family
We had the most amazing photo session with Artistic Images. They are special moments that we will always cherish. We LOVE Artistic Images and cannot wait for next year's photoshoot! Elizabeth, you are AMAZING!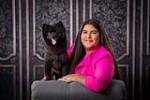 Lillianna and Shadow
I have been coming to Artistic Images since I was 2 weeks old and they are like family. I love them so much and I can't wait for more photos in the future. With Love, Lillianna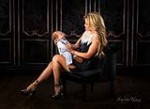 Special Moments
Thank you for an amazing experience! You are truly talented and have an amazing gift! We loved sharing these special moments with you! Thank you, The Patel Family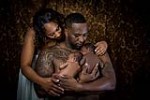 The Martin Family
Thank you for the great session! Baby Sasha and Baby Tahlia were a handful but you handled them with grace and experience. It made for a great photo session and I look forward to working with you in the future. Kat and Mike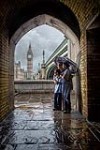 The Sanders Family
We have had a great morning exploring the studio gardens! We had a great time and can't wait to see the photos! Kevin has had good practice for his 2024 Senior Portraits! Elizabeth is amazing at getting beautiful images! I have a special needs son who needs extra attention but she always gets the best shots. If I have any complaint, it's that she knows what I love and makes sure she gets those kinds of shots so it's impossible to narrow down all the incredible choices! Whether is a mini-session at her studio or an all-day destination shoot, she is worth it! LOVE, Judy, Harold and Kevin (plus Alan in spirit)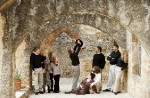 Words are not enough...
Whoever said 'Words are not enough' was right. Words are not enough; but your portraits that are lovingly shown by Sandy to each of us who are lucky enough to find and patronize Artistic Images are enough. All of them, whether they are hanging on the walls (framed with such talent and care by your Mom, and my friend, Penny), around my neck (or wrist, or finger) or gracing a purse or music box mean so much to me. They are treasure chests of emotion and love, ever evolving with me as I age and learn. They can invoke a smile, a giggle or a tear. The portraits, your works of art, touch my heart, soul, mind and body. From the first time I saw your work at your parents' home I was amazed. I knew your timing was unbelievable, and I thought the portrait I was looking at was the best I had ever seen or would see. That was in the early 90's. As you know ever since that remarkable day you have taken portraits of our family, our celebrations, our children's weddings, and our pets. You've been there through our emotional roller coaster of life and I believe I'm crazy to think so, but I think you are still getting better. And, OMG you are! I can't forget your staff, what can I say, they are each amazing. So, for now, my friend, I'll simply say, "God bless you" and "thank you" for the memories and the emotions I feel when I see your artwork. Thank you.Nita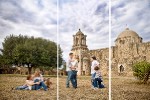 From a friend...
Dear Trey and Elizabeth,I wanted to take just a minute to say how much I appreciated everything you did for us. It is strange being on the other side of the camera. It is not my favorite place. I managed to survive and am so happy that we were able to do it.I can't even begin to tell you how much the images already mean to me, and the rest of my family. As I sit here 1,000 miles from home, they take on a special meaning and are even that much more valuable to me.Since I will only see my wife and kids for a few days over the next 8-10 months, these images are my window into the life I am working towards, and my motivation to keep going. I could spend pages telling you how appreciative I am, but I will spare you the rambling.I will just say to you, Thank You.Robert Townsend fellow photographer, friend, Air Force Officer